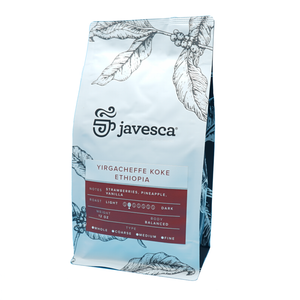 Ethiopia - Yirgacheffe Koke
Sale price Price $15.99 Regular price $15.00
PROCESSING METHOD: Honey Natural
FLAVOR NOTES: Strawberries, Pineapple, and Vanilla.
While Ethiopia is known as the birth place of coffee, no region has received as much praise for their heirloom varietal coffees than Yirgacheffe.  Yirgacheffe is in the Gedeo zone of Ethiopia which is bordered on the south by Kochere, west by Oromia Zone, and the east by Bule.
Koke is small community of approximately 100,000 people that produce close to 30% of all the coffee carrying the coveted Yirgacheffe name.  The community has a health center, high school, and many other services that support the local community in the quest to produce great coffee!
This coffee has gone through a honey natural process creating a truly unique coffee loaded with tropical fruit and pineapple notes!  Bright, balanced, and an amazingly smooth coffee.